Welcome to Apple Creek Whitetails Ranch!
The minute you arrive here at Apple Creek Whitetails Ranch you will begin to experience a hunting adventure like no other. Nestled in the heart of Wisconsin's North woods, surrounded by thick forests, tall pines and cedar swamps our 1,500 acre hunting ranch is certain to give you the tranquility and hunting experience one seeks.
This trophy whitetail destination is nothing short of amazing with its majestic deer and luxurious accommodations - we welcome you here at Apple Creek Whitetails Ranch. Hunt with the weapon of your choice in August for trophy bucks in velvet and September through January for hard-horned trophy whitetails.
Our Preserve
Our preserve has heated and unheated box blinds, traditional ground blinds, and tree stands. There are a vast number of natural food plots scattered throughout the preserve.
We offer an illuminated outdoor shooting range for our guests who arrive at night and wish to hunt at the crack of dawn the following morning.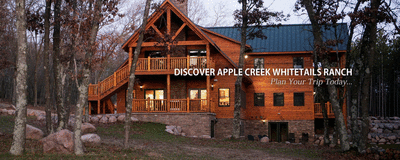 Lodging & Other Options
Just take a moment and picture yourself walking among some of the greatest Whitetails known to man. Imagine your blind nestled among cedar swamps, lush food plots, hardwoods or the choice of hunting over Agricultural Ground. At Apple Creek Whitetails Ranch, you can enjoy all of this in one location. We are truly excited to offer a diverse range of accomodations from luxury to rustic.
In addition to hunting all guests are welcome to fish on our ponds that are heavily stocked with Walleye, Trout, Bass and Perch.
Trophy Whitetails that were only once imaginable in your dreams, are now a reality.
All of us here at Apple Creek Whitetails hope to see you hunt with us this season!
For more information about our hunts and lodges, be sure to visit our website!